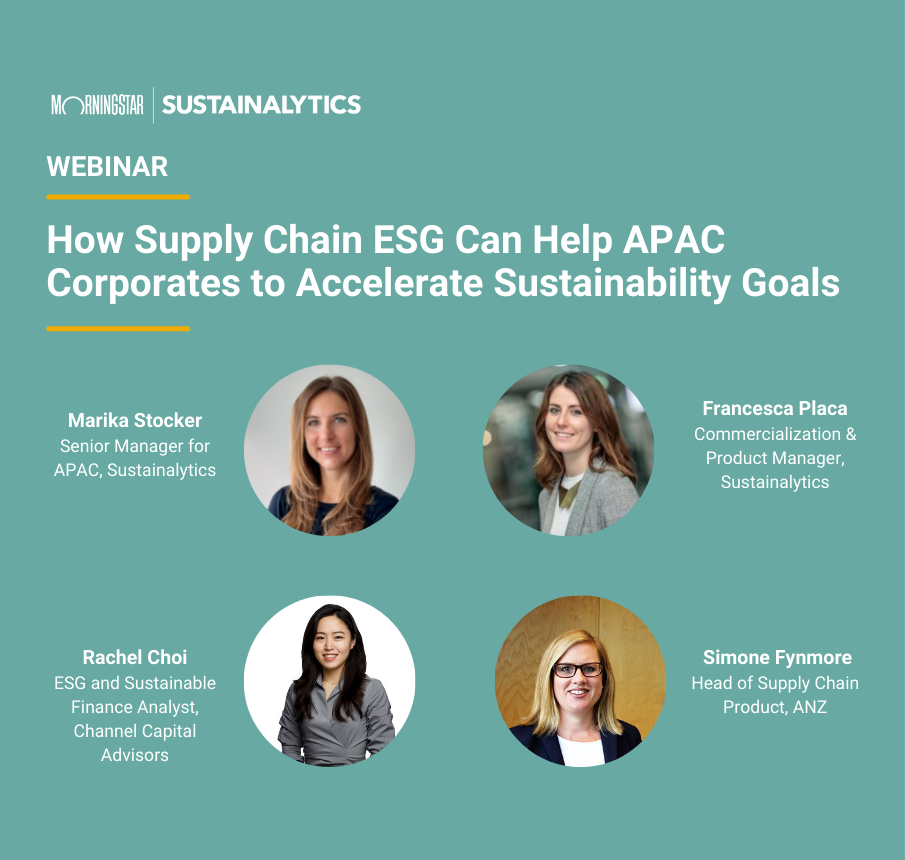 Key Points for Participants
Learn

how

Sustainalytics

'

corporate

clients

have

used our Supply Chain ESG Solutions

to

gain insight into risks in their supply chain

Discover how buyers and suppliers can best prepare for upcoming regulations such as modern slavery and supply chain due diligence

Explore how banks can use our

ESG Risk Rating

data for supply chain financing

Hear perspectives on the importance of comprehensive supply chain assessment for overall company value

About This Webinar:

As corporates look for ways to improve their sustainability, many companies are turning to their supply chains to make meaningful changes to transition towards net zero.
This webinar will educate APAC companies on the importance of considering ESG risks inherent in their supply chain, and what your company needs to do to address those potential risks.
Our multidisciplinary panel will share their expertise on building a sustainable supply chain from a banking and corporate perspective.
Attend to learn more about how Sustainalytics can help you:
Research material environmental and human rights issues in supply chains   

Perform due diligence on

a broad portfolio of

companies, including private companies that

don't

publicly disclose ESG data 

Tailor the level of ESG Risk Rating detail for each of your suppliers

, to

cover more of your supply chain.
Featured Panelists:
Moderator: Marika Stocker,

Senior Manager for APAC, Morningstar Sustainalytics

Simone Fynmore, Head of Supply Chain Product, ANZ

Rachel Choi, ESG and Sustainable Finance Analyst,

Channel Capital Advisors

Francesca Placa, Commercialization & Product Manager,
Morningstar Sustainalytics