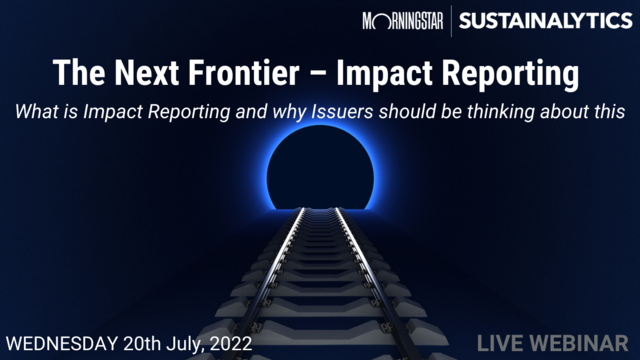 ---
Webinar: The Next Frontier - Impact Reporting
What is Impact Reporting and why Issuers should be thinking about this?
Who It's For: Professionals in Sustainable Finance Departments, Corporate Sustainability, Treasury and Investor Relations
About This Webinar:
The increasing urgency of the climate crisis has resulted in most investors demanding for more information about the extent to which their investments and portfolios are aligned with the 2°C Paris Agreement target. A recent Environmental Finance Report indicated that 90% of investors regard impact reports as 'crucial' and yet 75% of them said that current impact reporting practices are 'inadequate' and the lack of impact reporting deterred them from making further investments. In short, Investors are increasingly discerning not just what they are investing in but what is the expected impact of their investment.
So, what is next on the Sustainable Finance horizon you may ask, beyond GSSS and Transition Bonds?
Join us as we share:
How Sustainalytics' evaluate Issuer and Issuance level impact
Practical tips on data requirements and what kind of metrics investors are looking for
Hear from corporates on the challenges they face when quantifying the impacts of the company's socio-economic contribution and the environmental impact of green bond issuances
Find out how they have utilized Sustainalytics' Green Bond Impact & Corporate Impact reports to enhance their companies ESG reporting and transparency and fulfil their reporting and stakeholder engagement requirements
Featured Panelists: